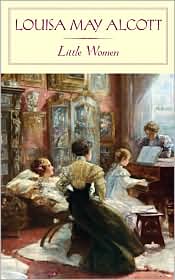 "Please forgive me, Jo; I'm very, very sorry."
"I never shall forgive you," was Jo's stern answer.... It was not a happy evening... something was wanting, and the sweet home-peace was disturbed. They felt this most when singing-time came.... [Jo] felt so deeply injured that she really couldn't quite forgive yet... "It was an abominable thing, and she don't deserve to be forgiven."
"Amy was much offended that her overtures of peace had been repulsed, and began to wish she had not humbled herself to feel more injured than ever, and to plume herself on her superior virtue in a way which was particularly exasperating."
[Mother, to Jo]: "My child, the troubles and temptations of your life are beginning, and may be many; but you can overcome and outlive them all if you learn to feel the strength and tenderness of your Heavenly Father asa you do that of your earthly one.... His love and care never tire or change... but may become the source of life-long peace, happiness, and strength. Believe this heartily, and go to God with all your little cares, and hopes, and sins, and sorrows, as freely and confidingly as you come to your mother."