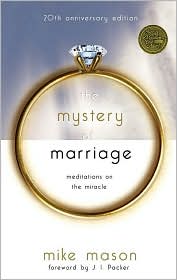 Just finished Mystery of Marriage, by Mike Mason. An elder statesman pastor recommended it a while ago, and I picked it up just before doing some pre-marital counseling. It's very different from the usual marriage book, and what a relief that is! It's a bit wordy and rhetorical, but also thought-provoking. Dealing honestly with the marital relationship, Mason also interweaves Christ's relationship to His people throughout, right at those "aha" insights into the husband/wife relationship.
I'd recommend this for those who have been married for 10 years or more, though it certainly can add depth to a pre-marital session, as well!
Here are some quotes.
"Closeness is bought at a cost... one's self" (81).
"People crave closeness with one another, but are repelled by the sin that such closeness inevitably uncovers in themselves: the selfish motives that are unmasked, the pettiness that spills out" (94).
"Shame is what a proud man feels when he has nothing left to be proud of" (130).
"For some people it may be difficult or disturing to have to admit that the flieshly body plays such a predominant, and even a preeminent, role in spiritual life. But... physical existence is the sphere in which spiritual truth must be worked out" (138).
"Sex must never be depended upon to establish love but can only grow out of it" (139).
"In marriage we do not give ourselves to a cause or a program or a belief, but to a person" (156).