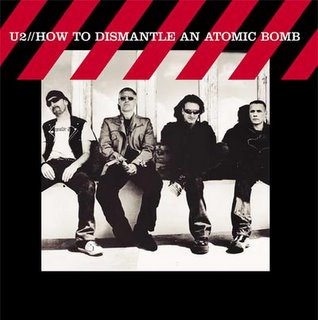 Here's my favorite rock album lately (okay, my
only
rock album lately!). I had heard they won a Grammy, and didn't get around to checking it out until today.
Sure enough.
5 grammys: Album of the Year, Song of the Year for "Sometimes You Can't Make it on Your Own," Best Rock Perfomance for duo or group vocals, Best Rock Song for "City of Blinding Lights," and Best Rock Album.
Bono commented on their own music: "You have this opportunity to make rage into a chorus or hurt into a verse, (and) sorrow is always so much sweeter when it rhymes."
Larry the drummer stepped in to remind Bono that when you're "finished dealing with the world problems, Third World problems, maybe he should do something about the music industry, because it needs a little help" (from www.u2.com). Right on.
The music is quality (if you're into the genre), and the lyrics are amazing. Bono is an interesting guy when he sings/talks culture and faith. Don't always agree, but usually he's worth pondering. Here are some of the lyrics to the lead song, "Vertigo."
The jungle is your head
Can't rule your heart
A feeling is so much stronger than
A thought
Your eyes are wide
And though your soul
It can't be bought
Your mind can wander

We're at a place called Vertigo
Lights go down and all I know
Is that you give me something

I can feel your love teaching me how
Your love is teaching me how, how to kneel
I think the world seduces us these days by distracting us, or by assuming that our feelings should rule our lives instead of our heads. Bono's on to something in that first verse. And God's love does teach us how to kneel, something we need a lot of learning in.